FAQ's
1. What is my student supposed to be doing at home?
If they use their time in the STEM lab they shouldn't have anything to do at home!!! 
2. So what can I do to support my student?
Remember when they were really young and they were constantly asking you questions?  Well....it's your turn!  Ask them what they are doing? Why are they doing it? WHAT do they plan on doing next?  We want them exploring and thinking about the process.  
3. When do they get to do their experiments?
We are working with students to go through the entire scientific method. Once students have turned in their research paper to Ms. Snyder, they can design their experiment (what they are going to do....what variable(s) are they working with....what supplies do they need...etc.) then they can start their experiment!!!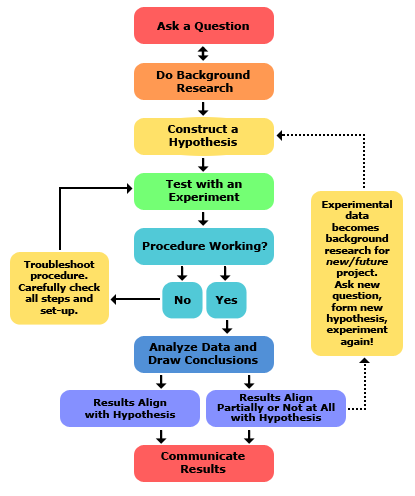 4. Where will they be doing their experiments?
With a few pre-approved exceptions, all experiments will be done at school!  Students should be starting their projects no later than the week of Nov. 27th.   
5. When can I send experiment supplies?
Whenever you feel comfortable doing so.  Please just be sure that they are in a box/bag that is labeled with their name and their teacher.  There may be some supplies available for experiments in the STEM Lab.  Speciality equipment may be provided by the STEM coach with pre-approval.  (Ex. Gel electrophoresis for DNA)
6. My student needs extra time....
No problem!  The STEM Lab is open every morning from 7:45 - 8:20 for students.  The rule is they have to be working on something! Additionally, students may stay after school with Ms. Snyder.  However, these sessions need to be pre-arranged at least 48 hours in advance.  
7. What needs to be on my science project board?
Your science project board is your way of telling everyone about all of your hard work! Make it look GOOD! (This does NOT mean you have to spend a ton of money on supplies!!!!!) I definitely recommend Googling science board images to get some creative ideas. As for content, you need the following minimum information: 
If you have any other questions, please do not hesitate to email/call Ms. Snyder!